In the midst of these uncertain times central banks across the world are determined with a unified stance of doing whatever it takes at least financially to support the economy and the 27th March 2020 address by RBI governor was India's response to the same.
In an unscheduled meeting Reserve Bank of India had preponed its meeting to address the stakeholders to extend its support for economy during this rapidly worsening times. The following document is enclosed with highlights of the release and our take on fixed income markets:
Interest rate decision:
Repo rate is reduced by 75 bps to 4.40% from 5.15%
Reverse repo rate is reduced by 90 bps to 4%
Reduction in cash reserve ratio (CRR) by 1% to 3%
Marginal standing facility (MSF) reduced by 25 bps to 4.65%
Liquidity adjustment facility (LAF) corridor widened from 50 bps to 65 bps
The above mentioned moves will inject liquidity to the tune of 1.7% of the GDP.
Inflation:
RBI is of the view that in the short term inflation shall not be a concern in the light of
slumped crude oil priced
Expected softening of food priced due to summer uptick
Reduction in aggregate demand
RBI is of the view that depending on the passthrough, the above mentioned should ease both fuel and core inflation.
Liquidity:
Reserve Bank will conduct auctions of targeted term repos of up to three years tenor of appropriate sizes for a total amount of up to ₹ 1,00,000 crore at a floating rate linked to the policy repo rate for creating liquidity in the investment grade corporate bonds, commercial papers and non-convertible debentures.
Existing Loans and Interest:
All banks and NBFC's are permitted to allow a moratorium of three months on payment of instalments of all term loans.
Deferment of 3 months on working capital facilities like overdraft and cash credit as well.
Read the FAQ's for more details on moratorium at: https://www.cnbctv18.com/economy/are-credit-card-bills-suspended-and-other-questions-on-rbi-moratorium-answered-5571531.htm
Our Take:
In the light of the COVID-19 and the lockdown as highlighted by the monetary committee the macroeconomic risks could be severe the same is reflected in the volatility in the fixed income market as depicted in the table below: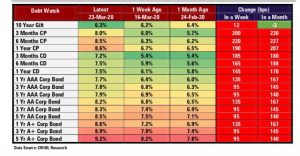 The acute risk off behaviour has led to sell off in the corporate bonds, commercial paper and debentures and increased the yield thereby investors facing temporary negative returns in the debt funds due to mark to market.
The expected and much awaited moves suggested by RBI shall stabilise the fixed income market by providing the needed support and liquidity.
The silver lining: What's in it for investors
"Tough times never last, tough people and tough institutions do"
The ending quote by the RBI governor is a true depiction of the ideal state of mind one should be while taking action in the present scenario.
Key take away:
The increased yields have made the fixed income market very lucrative again compared to fixed deposits for the investors.
An investor with certainty about the time horizon of investment and little appetite for volatility can benefit immensely from these higher yields
The statement makes a case for strong stimulus going forward.
Focus should be on the following categories based on time horizon
iVentures Model portfolio for replaced of FD: Time horizon 1 yr +
Disclaimer: This mail is for educational and informational purpose only. The data is publicly available, including information developed in-house. All information above is provided in good faith, however, we make no representation or warranty of any kind, express or implied regarding the accuracy, validity, reliability, completeness of any information. Therefore, conduct self-due diligence before investing, trusting the information provided. We have included statements/opinions/recommendations in this document, which contains words, or phrases such as "will" , "expect", "should" and similar expressions or variations of such expressions that are forward looking statements. Actual results may differ materially from those suggested by the forward looking statements due to risk or uncertainties associated with our expectations with respect to, but not limited to, exposure to market risks, general economic and political conditions in India and other countries globally. All investments are subject to market risk. iVentures and any of it's officers, directors, personnel and employees, shall not be liable for any loss. damage of any nature, including but not limited to direct, indirect, punitive, special, exemplary, as also any loss of profit in any way arising from the use of this material in any manner.
Source
https://www.rbi.org.in/scripts/BS_PressReleaseDisplay.aspx?prid=49582
Moneycontrol, Morningstar, Fund houses.