"Liquidity is the most important concern in short-term investments." But did you know, instead of keeping idle cash in savings account and let the banks benefit from it, you can park it in funds which offers the same liquidity, same security and much better returns. Mutual fund schemes known as liquid funds are ideal options for corporates & individuals for parking funds for the short term.
Basic features of liquid mutual funds-
Regulated by SEBI
Open ended debt mutual funds
No exposure to equity
Easily redeemable within 24 hrs.
Zero entry/exit load
No TDS
Dividends are tax free in the hands of the investor
Indexation benefits for investment above one year
| | |
| --- | --- |
| Let me show you what would have happened if you had invested your idle cash of Rs.10 lakh for a day in a liquid fund and not in bank's saving account-Amount | Rs.10,00,000 |
| Rate | 7% |
| Total Interest | Rs.7,00,000 |
| Per Day Value | 1917 |
| Idle Days in a year | 136 |
| Total earnings on idle funds | Rs.2,60,000/yr |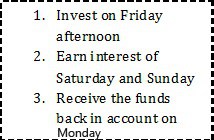 The table shows, if you invest your idle cash in liquid funds during weekends and festive holidays, you can earn an extra income of Rs.2,60,000 every year.(approx.)
Here is a list of some top funds and their returns-
Annualized Returns
Top Funds
1 day
7 days
14 days
1 month
3 months
1 year
Aditya Birla Sun Life Liquid Fund
7.1020
7.3424
7.2639
7.3469
7.5305
7.4747
Axis liquid fund
7.0922
7.1320
7.1437
7.2746
7.4839
7.5009
Franklin India liquid fund
7.1723
7.2428
7.2930
7.4578
7.7540
7.5257
Small amounts add up to large sums over long periods—the old penny saved is a penny earned. Idling your cash is a missed opportunity, and spending a few moments maximizing the value of that cash can get you moving instead of going nowhere.
[popup_anything id="9928″]